Less Is Way More:
Why Buying Lux Is the New Sustainability Trend
When we think of sustainable shopping, we usually think of being frugal and minimizing spending. But a new sustrend (did you see what we did there?) is quietly emerging, and TBH, we're into it: buying luxury, long-lasting products to shop less over time and save money (and the planet)
while doing it.
Hear us out – when you splurge on quality products that last, you end up buying less in the long run. You know how fancy things are usually made with the best materials and skills? Well, that means they're less likely to break or wear out fast. So you don't have to buy as much stuff over time, which is better for the planet.
And sure, buying fancy stuff feels costly in the moment, but since they don't need to be replaced all the time, you're actually saving money in the long run and helping the planet out by not throwing away as much junk, AKA reducing your overall environmental footprint.
So how do you shop sustainably for luxury items? Focus on quality over quantity and look for eco-friendly and ethical brands. And here's a little tip – using Karma can help you get great deals on luxury items and even earn Karma cash for future buys. Even better? It offers extra discounts on products and brands that never go on sale. So not only will you be saving the planet, but you'll also be saving money. Love it.
Need so sus lux inspo? Luckily, our favorite online shopping spot, NET-A-PORTER, has a whole section dedicated to sustainable shopping, and we've picked out some high-quality essentials that will never go out of style.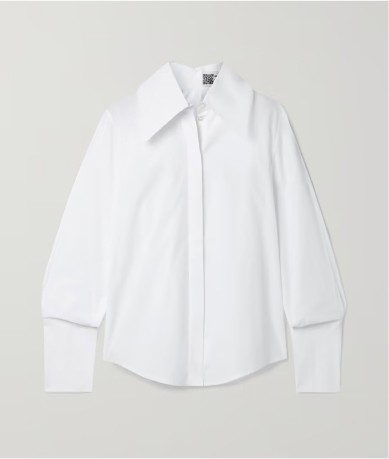 The perfect white poplin shirt
A pair of must-have jeans
Always chic Tortoiseshell sunnies